Social Media Monitoring: A Cross-Functional Company Guide
The social media marketing sphere has evolved into one of the biggest platforms for large and small brands alike, to leverage their online presence. According to a market study by Social Media Examiner, a staggering 79% of organisations are integrating social media with traditional marketing activities, meaning opting-out of social media is no longer an option.
Social media monitoring (SMM) tools can be used to gain revealing insights into the opinions and behaviour of consumers. However, unfortunately, the employment of social media monitoring on a regular basis is often only confined to the marketing department of a company. Whilst your marketing team may be a vanguard for social media success, it's high time all departments harnessed the power of social and got behind the Community Manager's essential endeavor for social media success!
Here you can see how SMM can be used across all functions of the value creation process:
1. Market Research
Social media monitoring has proven revolutionary for market research. While traditional research methods are still valuable, social media monitoring is a cost-effective way to supplement or replace some of them.
Monitoring online conversations gives market researchers valuable insights into gaps in the market: what do consumers want that isn't currently being provided by you or your competitors? What's more, finding out consumers' likes and dislikes about your brand has never been easier: SMM tools analyse common themes, keywords and sentiment of online conversations, thus granting researchers unfiltered and unsolicited access to a large sample of unbiased consumer opinions. Social media listening also helps to pinpoint where consumers are conversing online and which social media channels are relevant to each target group.
2. Product Development
Product managers can, too, harness the power of SMM tools to obtain constructive feedback about product performance. For example, analysing consumer feedback on social media in the lead up to a product launch, can provide managers with important insights for improvement during the product development phase. What's more, social listening tools enable product managers to anticipate peaks in product demand, thus improving lead times for suppliers and enabling more efficient Just-In-Time (JIT) processes.
3. Marketing
Data gathered from social media can also be leveraged to find out how consumers perceive marketing campaigns. For example, campaign successes (or failures!) can be gauged from social media engagement analytics, such as shares, likes and retweets.
Marketing managers can also use social media insights to find out which social media channels reach the largest audience, which attract the most influencers, and ultimately which generate the best leads. These insights can then be used to improve the strategy undertaken in future marketing campaigns.
4. Sales
Your social media strategy can also supported by the sales team: company representatives on the cusp of the consumer buying decision. SMM tools can improve the efficiency of the prospection process, as monitoring industry-specific keywords can be used to find key influencers, pinpoint potential customers at a point of need and provide them with a direct impetus to buy.
5. Customer Service
At the end of this short value chain is the end-customer, who has an ever-increasing satisfaction level, which needs to be met. The growth of social media has lead to increasing consumer demands, with companies expected to respond to complaints or questions directly through social media channels. Monitoring online conversations can highlight the reasons why consumers face uncertainty during the purchase decision and around-the-clock monitoring means counteraction of criticism can be quickly achieved.
Want to see social media monitoring in a customer service context? Well, according to Romain Le Callonnec, Community Strategist at M&CSaatchi, Digimind Social "offers great panopticon" and helps the agency to "deal with bad buzz and perform crisis prevention".
What are you waiting for?
If you want to get the most out of your social media strategy, why not try Digimind Social, your go-to social media monitoring software for company-wide cooperation!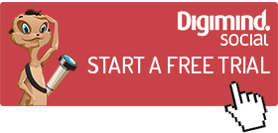 Marketing Manager @digimindci. Passionate about big data & social marketing. Photography, music and hiking lover