Local Banking still remains a staple in our economy
In 1947, the financial industry made up ten percent of the United States' non-farm profits. By 2010 that number expanded to fifty percent. Our nation's transition from a manufacturing based economy to a service based economy drove this change. Even with the recent economic crash, this progression continues. So what are the latest trends in banking? Commentators point to globalization as the only source of growth, but these "experts" overlook the trend towards banking at a more local level. Local banks remain a key aspect of the financial industry, due to unique products and personalized service. Any bank that can capitalize on this customer base, will gain power within the industry and a larger market share overall.
Local Banking still remains a staple in our economy, due to the unique types of products they offer. Recently NY Governor, Andrew Cuomo, announced that community banks provide fifty-five percent of all small business loans, and ninety-five percent of small farm loans in New York. Across the nation, community banks own ten percent of assets, but provide thirty-eight percent of small business loans. Furthermore small businesses make up sixty percent of non-farm jobs; by providing these types of loans, community banks remain vital in economic growth.
However community banks provide more than just loans, they provide a familial feeling and a sense of trust with their customers. In 2008, the United States was battered by the financial recession due to the irresponsibility of large financial institutions, culminating in massive foreclosures and skyrocketing unemployment. This left many with a mistrust of larger institutions. Over 9.6 million people have moved their money from large banks, to banks with under $100 million in assets. The "Move Your Money Project" is one such movement intent on decreasing American dependence on institutions "too big to fail". Small banks provide a personal service, with fewer employees they are able to cater toward individuals. The bank hierarchy lives within the community, making them more accountable for the decisions their company makes.
But any inquisitive reader is thinking, if small banks are such a vital piece of the economy, then why did the total number of small banks drop from over 8,000 to barely 3,000?" This movement is not destined to accelerate, considering that it has been curbed significantly since the recession. However, a more important trend that has taken place is the transformation in marketing by larger banks, with many of them positioning themselves as more personal. Discover's new slogan is "we treat you like you'd treat you" similarly TD's slogan is "Bank human again." Wells Fargo calls itself the "largest local bank." These Large conglomerates see local banks as both a threat and an opportunity; the biggest advantage larger banks hold over smaller banks is their ability to advertise themselves. If larger banks can position themselves as smaller, and more personal, they can usurp smaller banks easily, and expand their market share.
The problem in expanding locally lies in the difficulty in tracking competitors. The difficulty lies in the sheer number of small banks. With so many out there in all regions of the country, it is virtually impossible to follow all of them. There are nearly as many community banks as there are communities, therefore keeping current with all of them would require enormous research. Perhaps most difficult of all is tracking the individual needs of each region that community banks cover. The internet can assist in solving this problem, but it is not a complete solution because sources are extremely spread out. Thus, it is essential is to create a tool where all of these sources are consolidated allowing a snapshot look at each region, while keeping the information relevant and current. Of course such a tool exists, in the global company Digimind. Digimind specializes in utilizing the full capabilities of the internet, while keeping research focused on the specific topic. Here below lies an example of the Digimind tool tracking local banking within Massachusetts. By creating dashboards for each region Digimind gives a quick insight into the banking needs of any region. This tool provides a simple, yet important solution for any large bank intent on growing, as well as for any small bank that wishes to adapt itself better toward customer needs.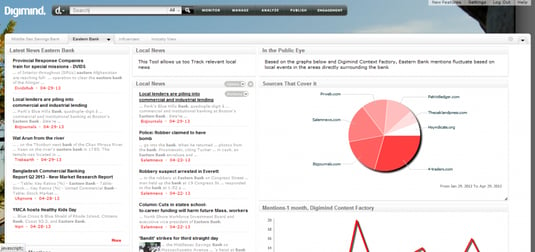 Marketing Manager @digimindci. Passionate about big data & social marketing. Photography, music and hiking lover