Trick-or-Treat: What Social Media is Saying About Halloween
With only 3 days to go, the social media world is teeming with excitement for the scariest night of the year. Using Digimind Social, we took a look at how the internet is buzzing about Halloween 2014.
Since October 8th, online mentions in English about Halloween have exceeded half a million and still counting. On a per day basis, October 27th saw the highest number of mentions, totaling 33,343.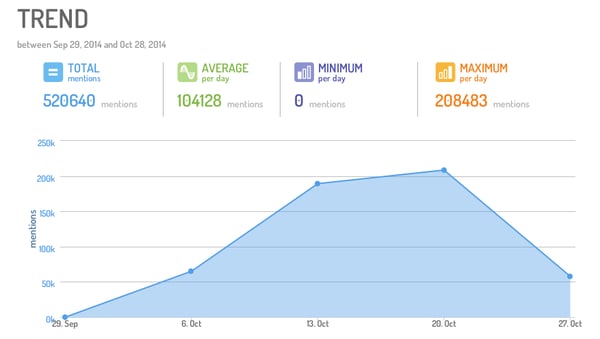 Not surprisingly, the vast majority of mentions about Halloween are coming from the United States. In looking at the key concepts, we can easily see typical Halloween buzzwords appearing in most of the mentions, such as "pumpkins" and "trick-or-treat".
By digging deeper into Halloween keywords and looking at which ones make up the highest share of mentions, it's no surprise that costumes dominate all the online chatter with 44% of the buzz.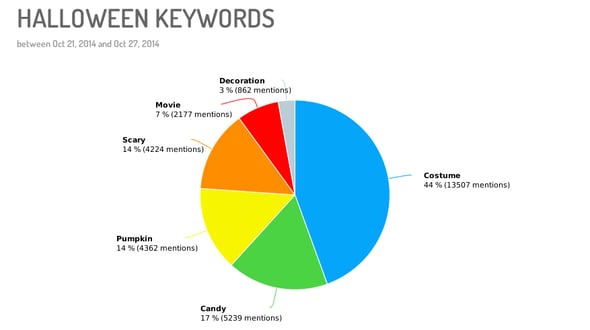 And what is everyone watching on TV? We tracked two of our favorite shows side by side to find that The Walking Dead accumulated nearly twice the number of mentions as American Horror Story.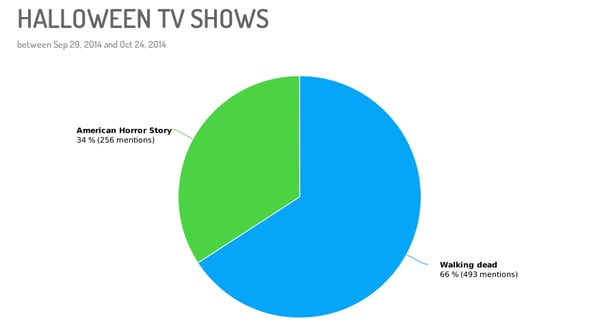 We also took a look at the sentiment analysis surrounding Halloween by analyzing positive and negative keywords associated with those mentions. It's safe to say that people are happy and excited for the holiday with 72% positive sentiment.

And finally, to sum of a few of this year's sentiments:



Happy Halloween from Digimind!
Digimind is an award-winning social media monitoring & analytics provider for businesses. Get a demo with us today!
Marketing Manager @digimindci. Passionate about big data & social marketing. Photography, music and hiking lover