Case Study: How Digimind Drives Value for American Electric Power
A PRWeek Interview With Josh Polk, Social Media Manager at American Electric Power

PRWeek recently sat down with the Social Media Manager at AEP, Josh Polk, to discuss how Digimind drives results for his business.
How do you use Digimind?
American Electric Power is a utility holding company that owns seven power companies and one retail energy company, so I monitor mentions for the holding company and for of all eight of our brands. Digimind Social allows me to monitor everything in one tool at the same time. I can also look at each brand separately.
Every day, I send reports on key mentions from the previous day to various groups within the company, including HR, security, marketing, corporate communications, and customer service. I select key mentions on Facebook, Twitter, and Google+ that represent what customers are thinking about us and create my daily summary report. I also set it up so that each director of corporate communications for all of our brands gets an email alert of all the mentions of their brand from the previous day. They can click on any mention in the email and go directly into Digimind Social to see more information about it.
It's a Web based, all-in-one-place interface. It's easy to add things such as tags and sentiment on the fly, and you can delete similar mentions right in the browser.
Digimind Social lets us have an unlimited number of users. Radian6 charges extra if you go over a certain number of users. Overall, the user experience and interface are better on Digimind Social. It's also quicker to use – I can do what I need to do in one hour with Digimind Social, whereas it the same thing took me two hours with Radian6.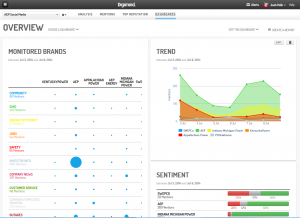 How does it serve your business needs?
Customer Focus is one of our four key values. Digimind Social allows us to measure, tag, see sentiment, and generally take the pulse of our audiences.
It lets us know if we're meeting our customers' expectations as far as communicating about things such as power outages, restoring power, why it takes so long to restore power, public safety messages, energy efficiency tips, or why rates are increasing. It allows us to gauge what our customers do or do not understand and what they do or don't like. We base our communications on this information.
What are the main benefits?
The interface is user friendly. It is easy and quick to use. The types of charts and graphics it creates are great for reporting. It covers Instagram, Pinterest, and Google+, so we're getting a lot better coverage of the newer social media platforms.
(Read the full interview here).
Marketing Manager @digimindci. Passionate about big data & social marketing. Photography, music and hiking lover