Are You Listening? How Social Media Monitoring can benefit Universities and Colleges
Universities and colleges around the globe have the ability to drastically transform and enhance their research, marketing and business strategy through the power of Social Media. No longer a side thought, Social Media has become an essential hub of information that must be recognized and taken seriously; given that it allows us to gather key information about our audiences and their online conversations, ultimately providing vital insights into the student life universities previously couldn't see.
With over 90% of four-year college and university students using social media, it has become a key platform for students to engage with universities throughout every stage of the student life-cycle.
But how can social media really play a significant role in the way universities and colleges track their target audience, ensure maximum reach and provide the best value experience?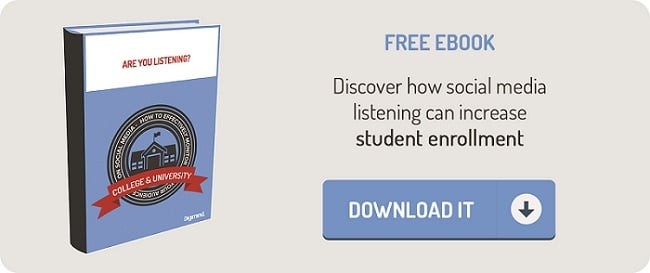 What are the focus points for universities on social media:
REPUTATION MANAGEMENT & BRAND RECOGNITION




Social Media allows you to manage and measure your institution's reputation, PR and potential online crises by paying close attention to negative chatter which can be turned into positive feedback on walls and forums.

By monitoring your competitors you'll see how industry leaders Havard, Yale and Princeton are engaging their online community in the right way to promote sporting wins in the Ivy League Championship - encouraging school spirit and amplifying their brand message.
IMPROVING STUDENT LIFE THROUGH SOCIAL LISTENING




By analysing complaints from your student body, delve deeper into why keeping up-to-date with your students is key to being reactive to what they're really looking for from their time at your university. Through this you'll be ahead of buzz on what they love, what they hate and what they love to hate - whether its about up and coming college events, where to eat, tutor office hours, or campus safety you'll be able to foster and grow your community engagement.
INCREASING ENROLLMENT THROUGH SOCIAL MEDIA MONITORING


Master the art of tuning into your students online conversations to make sure you are the standout college for attracting future student enrolments; whilst staying connected to those in other stages of the student life-cycle (start to finish). Filter conversations, key topics and worries about finance, courses and activities to capture, advise and assure the two thirds of prospective students using social to influence their college choice.
With such a broad demographic on social media, universities need to hit a home run when it comes to engaging with their students online.