Recap of the SCIP 2014 European Summit in Amsterdam
SCIP's annual European Summit certainly did not disappoint in 2014, and the event in Amsterdam provided a wonderful opportunity for Competitive Intelligence professionals to share experiences & expertise, network, and learn about the latest tools & trends. While we enjoyed the face-to-face interaction at the event, our social media monitoring tool was gathering data about the online networking taking place via the #scip Twitter hashtag and elsewhere on the web.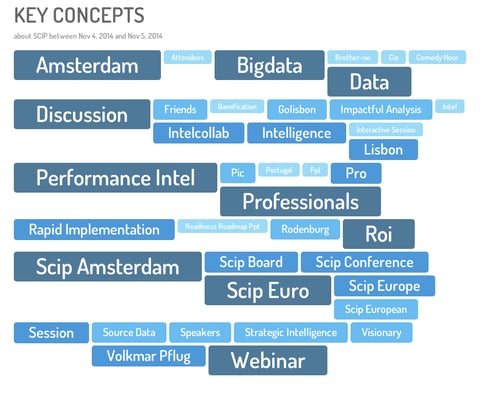 The word cloud of concepts associated with SCIP shows that big data and ROI are important topics this year. We can also see that rapid implementation and the SCIP board were topics of conversation. Looking in more detail, we notice that Lisbon is generating some buzz as a possible location for the next SCIP European Summit.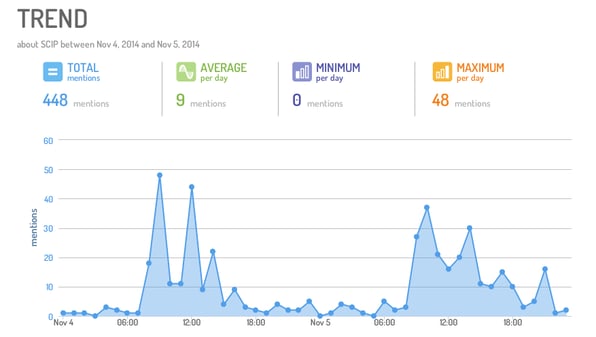 The hour-by-hour tracking of online mentions displays peaks during the general sessions, especially during the opening remarks and the keynote speech. Daniel Pascheles from Merck & Co. delivered a keynote presentation on the skills and competencies needed to succeed in CI in the 21st century, and an insightful slide from his presentation posted on Twitter was the most-shared content during the event.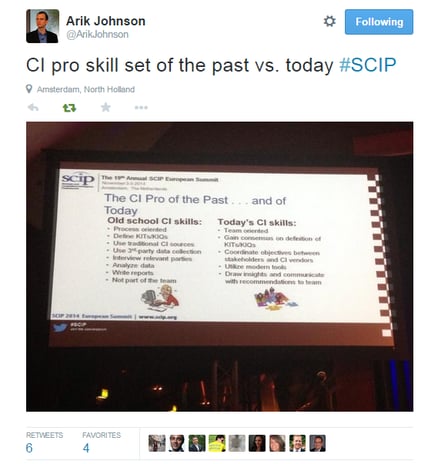 If you're interested in keeping up-to-date on the post-event Twitter conversations in the CI world, check out the top 10 key influencers from the event: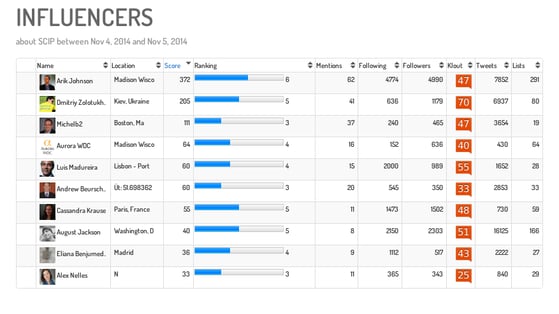 The 2014 SCIP European Summit proved to be very productive in generating both online and offline conversations and networking opportunities. We would like to take the opportunity to thank everyone who participated in our workshop on Social Media Tools for the C-Suite and attended the case study in the general session featuring Digimind's Adam Nors and client, Carmela de Vuono, from Chiesi. We are looking forward to continuing online discussions and meeting face-to-face at future SCIP events!
Marketing Manager @digimindci. Passionate about big data & social marketing. Photography, music and hiking lover