5 Lessons Learned from our European User's Club
15 Competitive Intelligence professionals from 12 companies and four countries attended Digimind's second European User's Club in Brussels, October 5.
The morning consisted of a presentation on their successful deployment from one of our European customers and an overview of Digimind news.
After breaking for lunch, participants attended three workshops:
-The Art of Defining KPIs
-A Debate of the Best Organizational Model for Competitive Intelligence Cells
-Best Practices for Deliverables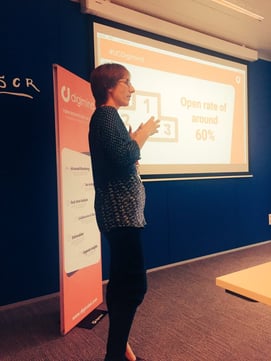 Insightful discussions allowed us to raise a number of important points and to note a true evolution of competitive intelligence:
1.The Right Formula for Deliverables
Deliverables can quickly become a source of 'infobesity' if their frequency is not adapted to the recipients and if they are not segmented by relevance (country, interest, sector of activity).
2.The Growing Role of Corporate Social Networks
Enterprise social networks (Yammer, Google+) are in full emergence. Are they simply a quick communication tool, or will they become a new type of deliverable?
3.Connect Your Monitoring Tools to External Tools
Competitive Intelligence cells are expressing the need to connect their monitoring device to external tools like CRM, graphical analysis tools like Tableau, and corporate social networks.
4.The Evolution of KPIs
A project that does not involve top management from the beginning, or is not well-aligned with the strategic objectives of the company will have difficulty deploying and shipping other Business Units. Similarly, establishing KPIs to measure the success of the project is essential. Note that these KPIs can be both quantitative (number of users, the opening rate of deliverables) and qualitative (satisfaction rate of internal customers, detection of nuggets of valuable information, the rate of commercial opportunities detected).
5.The Emergence of the 'Decentralized' Organizational Model and Internal Billing
Competitive Intelligence cells are asked to do more with less. In this context, marked by budget and staff reductions, the decentralized model of organization is becoming increasingly popular. However, there are several limitations to this model: it can be difficult to get business experts to contribute because of availability issues and because standby missions are not included in their job descriptions. Moreover, the coordination must be perfect between the different BUs to prevent them from working on the same subjects.
To alleviate budget constraints, many organizations are considering a new model: internal billing. The Competitive Intelligence cell operates as an agency and invoices the BUs for its services. In the most advanced scenarios, the salaries of the Competitive Intelligence professionals are paid entirely by other departments!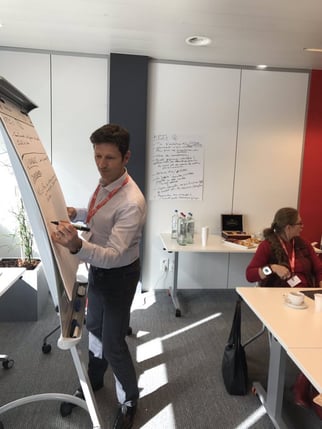 More than ever, we are seeing an evolution in competitive intelligence, which is constantly reinventing itself to adapt to a changing environment.
We would like to thank all of our participants for their good humor, the quality of their conversations, and for their continued interaction without which this day could not have been so rich!
Vanessa is marketing manager at Digimind, and is looking after the CI market. Passionate about information technologies, digital marketing and B2B, Vanessa likes to debate the best strategies to help companies stand out in a highly competitive and rapidly changing market.