A Collaborative Network: Top Industry Insights at SCIP 2016
SCIP 21st Annual European Summit went off without a hitch. Digimind got to rub elbows with industry professionals in the Competitive Intelligence world for the two-day event that took place in Prague, Czech Republic on November 8th and 9th.
Strategies for change in a networked world
Digimind has been attending SCIP for a few years now, and every time it gets better and better. This years theme was "collaborative intelligence in a networked world", which was present in all aspects of the event, through a number of interactive keynote speaker presentations, engaging round-table sessions and critical workshops.
These workshops discussed the evolving nature of how new ideas and innovations rise in the market while touching on today's top industries.
Panel Discussion: Competitive Intelligence's role in sustaining your brand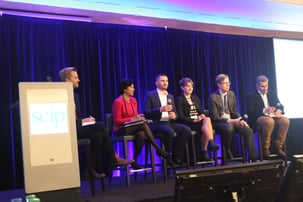 Digimind was a familiar face at SCIP, as once again we took the stage. On day 1 at 12pm Adam Nors, Market Intelligence & Online Reputation Project Manager at Digimind was the moderator for an interactive panel discussion on Intelligence and its Role in Creating and Sustaining your Brand.
Joining us on stage was a long-time client of Digimind Intelligence that was eager to share how our platform is helping her company understand how to position, and market their brand through a combination of market and social media insights.
Cross-industry networking
This valuable competitive intelligence event has be known across the globe to bring together executive industry professionals from over 42 countries. SCIP every year allows a space for cross-industry networking to share best practices. Interested in discovering more about how you can collaborative with your team to created the most effective competitive intelligence project?