Collective Intelligence: how it can complement your insights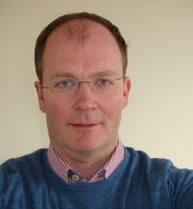 At Digimind, we're always interested in speaking to other professionals who share our passion when it comes to unearthing valuable intelligence insights. This week we sat down with Leslie McCrory to talk about the importance of collective intelligence.
Leslie has a wealth of experience in the market intelligence field, working with a number of the biggest companies across the technology and telecoms sectors. He is now director of The Foresights Factory based in the UK.
1) You've been working in the technology industry for many years, from your experience what is the main challenge of this industry regarding their market intelligence processes?
Timing, relevance and convenience.
As we all know and have seen over the past few decades, competition in technology markets is cut-throat and fortunes can change radically very quickly – companies, products and services are all in constant flux.
It's therefore essential that intelligence functions move quickly (timing), act on the right things
(relevance) and engage stakeholders in meaningful ways (convenience). The proliferation of media channels, opportunities to interact and people's need to communicate something / anything, means there's a lot of noise out there. Companies need to be able to spot and act on the signals that matter.
2) Why do you feel collective intelligence is so important?
My personal conception of "Collective Intelligence" is as a complement to market and consumer insights. For the purposes of simplicity, let's equate 'Market Insights' with macro movements like technology, regulation, the economy, competitive and channel dynamics. And let's equate 'Consumer Insights' with understanding individuals and the respective roles that technology plays. There are lots of great companies helping businesses to understand these two broad areas and some are doing an excellent job in bringing these two elements together.
To my mind, however, one thing is missing. Namely: access to the insights that are already within the organisation itself. As staff go about their everyday business (meeting customers, speaking to and observing consumers, attending conferences and exhibitions etc), they're constantly picking up insights and intelligence nuggets. Most will have the best intentions to somehow share these insights, however all too often other priorities take over and the insights nugget becomes worthless because it has not been shared or put to use.
3) Do you think technology can help companies with their collective intelligence projects?
I do, absolutely. Technology is vital in terms of timing, relevance and convenience. To take just one simple example by way of illustration: bespoke apps for smartphones. Staff, as they go about their everyday business, can take photos, video clips, make voice recordings, write text messages, copy URLs etc and at the press of a button it's all shared, stored and available to the whole organisation. From the strategic (eg dedicated analysts creating regular digest reports and looking for big trends) to the tactical, where any staff member can run specific ad hoc queries.
To borrow a buzzword, what I'm describing here is drawing on the wisdom of crowds. And, in doing so, using technology to extract latent insights and boost the collective intelligence of an organisation.
Marketing Manager @digimindci. Passionate about big data & social marketing. Photography, music and hiking lover