American Healthcare Affordability and the Top Concerns of Social Media
Fundamentally, affordability is a function of income, spending, and judgments about the value of goods and services for their price. But what is affordable healthcare?
What is affordable healthcare?
Although the "affordability" of healthcare is a common concern, the term is not often defined. Affordability is an economic concept, whether it's on an individual level, or dealing with current policies, and can vary depending on perspectives. It is a threshold of various measures that have the intent to capture the burden of cost for individuals or families that have different coverage, financial circumstances, and health-related concerns.
When discussing healthcare, many Americans deal with significant problems due to healthcare costs, whether through high deductibles that discourages the individual from seeking healthcare, outrageous drug/treatment price increases, gaps of coverage in insurance benefits, or rising health insurance premiums.
So what are Americans saying about healthcare on social media?
Let's dive in and take look at some key analytics we monitored around healthcare in the US from July 1st to September 1st, 2019.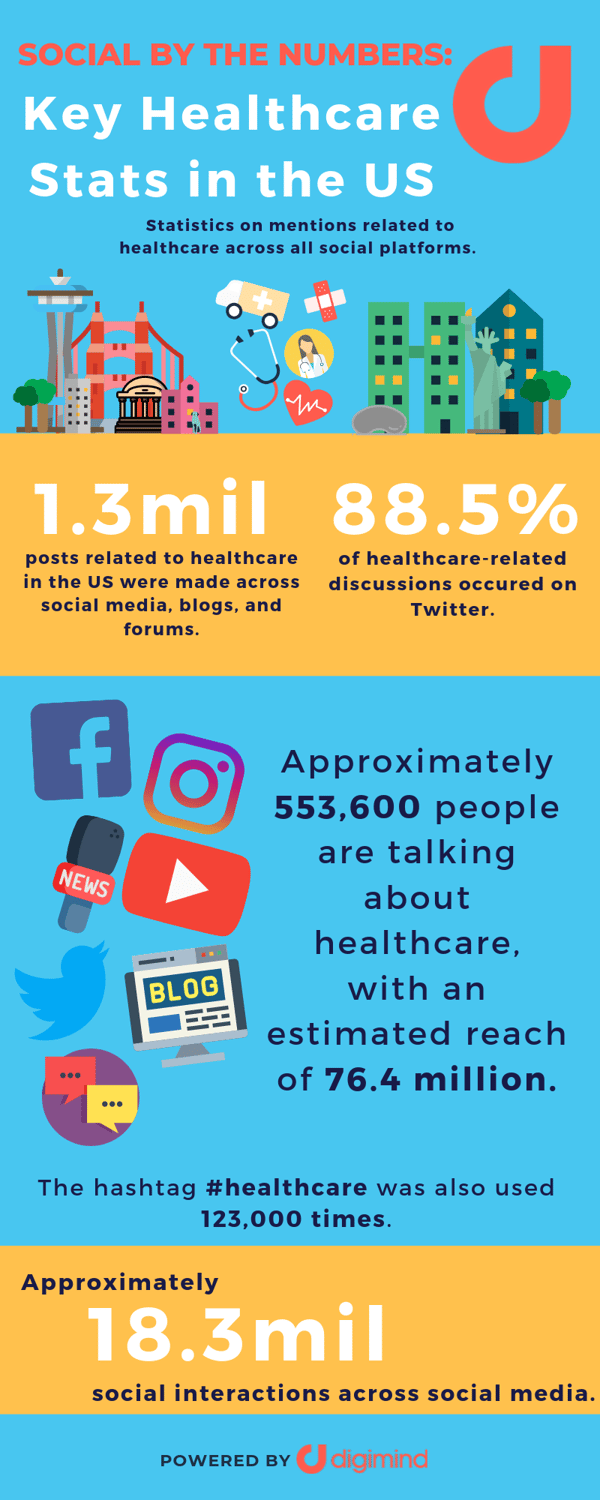 From these statistics, we can see that healthcare is definitely a top concern on most Americans' minds, with affordability dominating the majority of the discussions with 18% of all mentions being related to it. Take a look at this word cluster of the top mentioned concepts related to healthcare, as obtained from our social media listening tool, Digimind Social.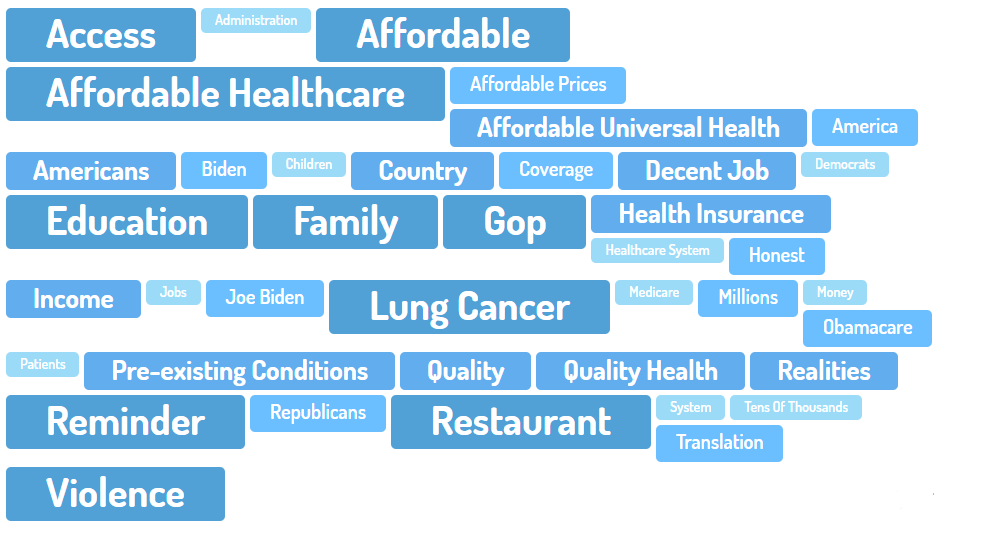 Of all of the main concepts mentioned above, topics related to affordability appears the most, but it is not the only concerns. Another major concern with mentions pertaining to healthcare is the policies related to pre-existing conditions. The possibility of being denied healthcare, or having an unlivable life is a topmost worry for most Americans and their loved ones.
American Consumers' Growing Mistrust
Healthcare-related policies and legislation in the US are more divisive than ever. As the Affordable Care Act (ACA) remains the law of the land, the current administration constantly challenges the legislation. With the uncertain nature of this and the possibility of 30+ million Americans losing coverage and 133+ million Americans with pre-existing conditions at risk of losing coverage, there is a growing mistrust that needs to be addressed. During the period studied, approximately 8% of all healthcare-related mentions expressed some level of dissent towards current and future legislation in regards to pre-existing conditions. Provided here is a snapshot of the top-performing tweets pertaining to this topic.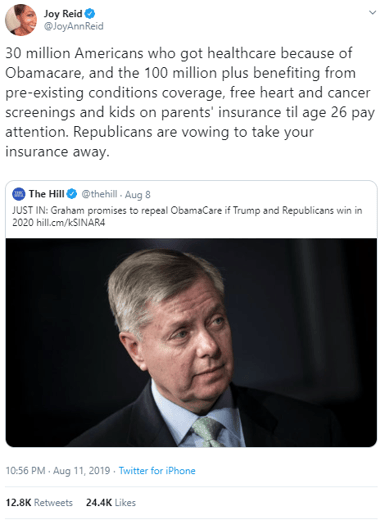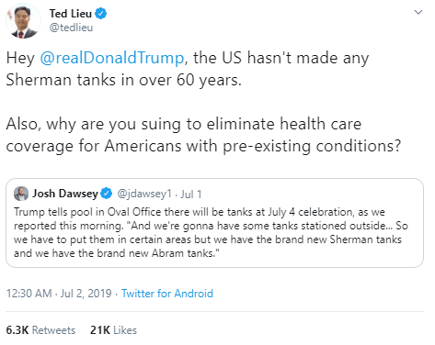 Rising Healthcare Costs in the US
Another issue that plagues healthcare affordability in the US is the rising prices of pharmaceutical drugs and medical devices. Of all the mentions that pertain to healthcare, approximately 17% are related to concerns of rising costs. We also see an increase of over 100% during the latter half of July, due to the democratic debates, as healthcare costs were the main centerpiece of discussions.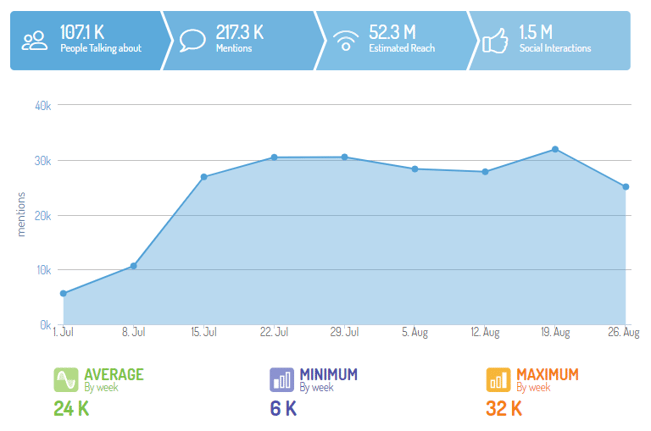 For the last few decades, drug prices have been steadily increasing, which then creates a cascading effect that causes increases in deductibles as well as premiums. Given that the annual median price increase is 9.5% a year, the price of popular brand-name drugs doubles ever year.

Therefore in order to combat this, it is crucial that lawmakers create policies that negate this type of exploitation. Although this may still be far-reaching, lawmakers and the FDA are stepping forward in the right direction. In the last recent years, FDA-approved generics and biosimilars are starting to appear onto the market with prices 80-85% less than the branded counterpart. With the possibility of affordable alternatives on the market, this can decrease the prices of premiums and deductibles as the insurance companies wouldn't have to cover so much of the costs.
What needs to change and how do we fix it?
When creating new healthcare policies to alleviate these problems, policymakers must recognize and weight the trade-offs against each other, and find new methods of introducing cheaper drugs to the market. Depending on the policy, costs can shift from the sick to the healthy, or from the affected households to all taxpayers. Any discussions on affordability bring forth a conversation about values of what we, as a society, see as fair and justifiable coverage. In order to transform affordability from a concept to a policy, policymakers will need to consider a number of key issues, including the cost of care versus the cost of insurance, how to fairly distribute costs, consumers' most vital concerns, causes of financial barriers to care, and the impact of policies.
Healthcare has been a pressing issue within the US for decades, but it seems to be reaching a peak in recent years. In order to understand consumers' concerns and issues, it is more vital than ever for pharmaceutical and healthcare companies and the likes to embrace social media intelligence to understand the dynamics of these concerns. By utilizing these tools, companies can anticipate trending issues, track and identify key opinion leaders, stay one step ahead of potential crises, and formulate strategies in real-time based on social media outcomes.
Interested in learning more about the latest trends and concerns? Check out our US pharmaceutical / healthcare industry report!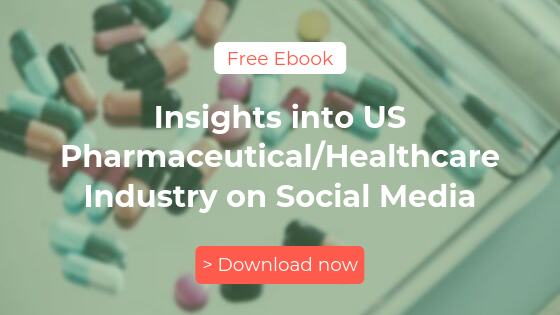 With experience in the pharmaceutical and biotechnology sector, Kevin is eager to discover new technology and methods to transcend patient healthcare. In his downtime, he enjoys traveling and playing video games.