Social Media Shows No Mercy Towards United Airlines
United Airlines flights were temporarily halted nationwide due to what the FAA claimed was a computer glitch - notably described as "connectivity issues" - grounding all flights. Although the error was corrected, thousands of people were left waiting to board their flights due to the cascading effect of these delays.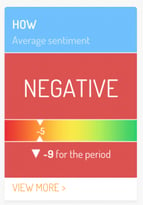 In the past few months, United Airlines has had some incidents which negatively affected their reputation. In late May, Tahera Ahmad, a Muslim US university chaplain, posted on social media about the 'Islamophobic' treatment she suffered at the hands of a flight attendant who would not serve her an unopened can of soda. Since then, there have been 2 cases of flight delays due to "network connectivity issues" preventing processing of check-ins and take-offs within 2 months.
We at Digimind have been monitoring United Airlines with Panorama, the digital control tower for online reputation, and the current sentimentality towards the airline has taken quite a hit.


There are also some people on social media that (jokingly) believe this computer glitch to be related to the NYSE technical glitch and the Wall Street Journal's website crashing.

Meanwhile, regional flights (including their commuter airline partners and smaller flights) managed to return to their normal schedules before the systems were officially announced as operational. In other related news, a United Airlines passenger recently posted footage sparks flying off a plane's engine on a flight forced to turn back to Honolulu.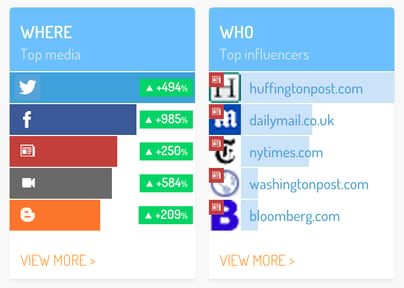 From what we can tell, Twitter was the social platform that was most abuzz with United's latest debacle, with Facebook not too far behind. The story was also covered by all major news networks, including top influencers such as the Huffington Post, the New York Times, the Washington Post, and Bloomberg. As we can see, the story was most widely covered on the Huffington Post.
Any company facing these issues would do well to invest in an efficient and easy to use social media listening tool like Digimind Social. With it, you can monitor your brand's image with continually updating information, and react immediately.
Marketing Manager @digimindci. Passionate about big data & social marketing. Photography, music and hiking lover