Insights from #CSMNY 2016
The Corporate Social Media Summit welcomed thought leaders across industries including Twitter, Intel, Coca Cola, Time Warner, Humana, Wells Fargo, HP, The Wall Street Journal, Zappos, and even the NFL's Kansas City Chiefs. The event brought waves across social media reflecting the very sentiment of the conference: the use of social media as a platform for communication and the sharing of ideas. This year's #CSMNY gave brilliance to topics from Social's role in engaging, analyzing and better-serving customers, Protecting Your Brand On Social: Building a world-class social media governance program and, Social ROI: Clarify and strengthen the link between social and business success, and all other trending topics in social media today.
During the 2-day June 20 - 21, 2016 event, social media thought leaders shared industry insights through a mix of panel-style discussion and firechat presentations. We've pulled together a concise summary of the key insights from the event including brands Dell, Coca Cola Co, Ebay, Google, and Amica.
Key influencers and your brand: A long-term approach to create mutual value
Konnie-Alex Brown of Dell shares the importance of maintaining relationships with key social influencers. When welcoming a potential social influencer, "you want to invite them to your largest annual event." True to process Dell welcomes influencers to the company's largest annual event Dell World giving the influencer an opportunity to get t0 know your brand in an open and informative environment. Whilst there, the influencer is introduced to the brand, its strategy, and value proposition. It is here that the company determines whether they will go forward in partnership.
With influencer and brand agreement, the social influencer is welcomed to all meetings and has a "seat at the table." Influencer opinions are valued and their input is requested in creating a strategy that is mutually beneficial for both brands.
To keep the influencer, it is important to keep them updated on all items regarding the partnership. This can include any new findings in the industry, campaign challenges, and opportunities. Trust within a relationship is very important. It builds the credibility of your brand in your influencer's eyes. Welcoming the influencers opinions and suggestions is a critical part of the relationship. It helps the influencer feel involved and garners a deeper level of commitment.
Forward, it is important to be aware of happenings in your industry. Dell capitalized on this influencer relationship by letting their social influencer moderate a group at the largest industrial trade fair in the world. This moderated group was a gathering of members in the Dell ecosystem including software developers, hardware integrators, consumers, etc. From this think tank, Dell was able to get valuable information based on the inquiries on how to better products or services. Konnie-Alex states that before pairing with an influencer, consider the following:
Does the influencer audience match our audience?
Can deep, shared value be built?
Start with 2 influencers, figure out what works best and grow from there!
"Don't let agencies manage influencer relationship." For scalability and genuine relationship, it is important that internal employees manage the relationships for long-term benefit. It is an absolute collaboration where each side supports each other so long as there is mutual benefit.
Brown, shares that social influencers are meant to hit more niche communities. They are critical for this specific purpose. "This is invaluable to our business because these influencers understand our technology, they are proponents for it and the recognition we gain from the relationship is incredible".
How Coca-Cola uses social to build a personal connection and achieve deeper, more meaningful relationships
Tim Goudie of Coca-Cola Company posits companies must be willing to "achieve deeper, more meaningful relationships" when it comes to meeting the customers needs. Social media gives you the opportunity to reach an otherwise elusive customer base. These are the customers who have an opinion, suggestion or positive recommendation as to the use of your product or service but are not readily accessible. Meet them where they are on social media, engage with them and be "authentically human." Here are 5 key points Goudie leaves us with:
Stop Selling and Start Telling
Engage and Increasingly Elusive Consumer Base
Be Authentic, Be Human
Right Time, Right Place, Right Person
Organize and Behave like a Start-up
To measure success, companies have created an abundance of KPIS including cost per video view, cost per thousand, click through rates. These are all important measures of the efficiency of your social media strategy. Brands now must also consider the messaging of their ad campaigns and its ability to resound with their customers.
Coca-Cola was able to nail this message and deliver it to the right audience and this led to economic efficiency in ad spend. The company was able to get the cost per video view to $0.02 cents and increased engagement rates in excess of 30% through ads that showed how the business affected the community. With a marketing spend of 3 billion per year worldwide, the greatest ROI was the statistically significant increases in company trust and brand love. Marketers should seek to grow brand love which is a translation of purchase intent. "Customers care about the message." Those persons exposed to Coca Cola's #sustainability messages had more positive conception of the company than those who were not.
Coco Cola's new sustainable development, plant bottle, is made entirely of plants. They take sugar cane waste and transform it into plastic drastically reducing pollution and greater outputs. Now try to sell this to the up and running millennial group. Through the creation of 2 campaigns: one that represents the brand voice and the other curated for consumers, the company was able to satisfy 2 different audiences from a formal introduction to compelling storytelling. Content created for social media should be specific to social media, it is not a "copy-and-paste" job. This is what leads to campaign and brand success.
Goudie announces that companies should veer left of "Sadvertising". The more positive and uplifting the stories, the greater the sharing. Focusing on individuals also brings a great response, as it makes the content more intimate, more personal.
Coca-Cola has always gone with paid social media. This is particularly because you can target. Getting the right message to the right person at the right time. How did Goudie do this? Here are some examples
Event Content Calendar: Schedule "big trigger events" that the company can be involved in. get the entire office, team, PR, etc and make sure that all team members are focused on one event.
Paid Social Media enables the brand to target demographically and psycho-graphically.
Examples like this include pushing content out at exactly the right time. For example promoting content in relation to International Women's Day. Delivering content when your customer wants it leads to social sharing and amplified reach during a highly promoted event. With this, Coca-Cola achieved efficient media spend and boosted links to drive audiences back to the coca cola website. And what was the website page? Coca-Cola Sustainability. Reinforcing their storytelling campaign and increasing brand love because of it.
With over 40 hubs around the world that do social listening, Coca-Cola was able to wrap everyone around the goal of sustainability marketing. Communication amongst internal and global partners gave a multiplier of impressions of 6 to 8x if teams worked together rather than individually. Goudie shares that reaching your customer means getting into their conversations and delivering content that is positive and uplifting. Create stories and show the impact of your work and its success will reflect in company trust, brand love and purchase intent.
*Brand love is recorded as BP and it is a standard questioning mechanism. It is administered as a daily questionnaire that measures consumer consumption of coca-cola versus other branded beverage products- just in case you were wondering.
Rapid Response: Drive timely and personalized support capability
In this panel-style workshop: timely response in social is about matching customer expectations as noted by Victoria Miera, Social Customer Service Team Leader of Ebay. Responses are prioritized based on the platform. Support must be tailored by region and their social media platform preference to receive information and service. North American users tend to go towards Facebook for customer service while UK users veer towards Twitter. In the U.S. customers have high expectations of customer service. On targeted accounts, Ebay currently meets customer needs on average within 3 hours on social media platforms. They plan to reduce their cycle time by 75% to better reach customers faster through social media.
Following Miera on average customer response time on social media, Google's Head of Social Engagement, Nadia Lee shares that they launched G-chat to improve average cycle time. As they search to see what the customer is looking for they have organized their team towards customer success and reach customers through their messaging apps. Considering messaging is being used at a rate surpassing social media, it is a useful tool to meet your customer where they are. Google finds it best to match what their customers expecting and engage them directly on all online interactions.
Being open with turnaround times helps set customer expectations in regards to response time. This also varies regionally as customer expectations can vary by location.
Andrew Rose of Amica also shares the rapid response to customers organized by priority. with customer safety is it critical to reach those customers in more time-sensitive circumstances versus those who are not. What is quite important is having a platform that houses all requests that allow for rapid response time. Google and Amica share this is what leads to success.
Rapid response in the social media space is all about having processes and integration tools that allow companies to reach their customer base online. A tool that is simple for customers, despite the complexity behind the scenes as Social Media Lead Dallen McKee discusses. It is also important to have a knowledgeable team that is "bold" and has "knowledge" behind the platforms.
Last but not least, all speakers agree that training is also a critical point of rapid response on social media. To convey the voice of the brand through social media interactions, employees must be trained to understand the brand voice and how to be a brand representative on all channels. Through training, customer delight can be achieved with proper recording of conversations or posts that customers make online. Enchantment as Rose expresses can be achieved by remembering previous conversations with customers or sending them a small gift as the result of an interaction. Social listening tools also have the ability to curate customer response with its ability to pull historical data years back from a customer account and to relate it to current solutions.
Social media is truly changing the interactions brand are having with their consumers. Companies must now be responsive, relatable and inspiring to pull value from their target markets. As social media continues to evolve we can expect big changes in social media that will contribute to satisfaction of its users and brand success.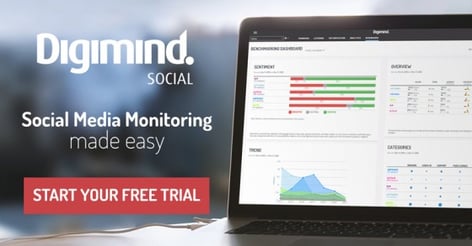 Marketing Manager @digimindci. Passionate about big data & social marketing. Photography, music and hiking lover