For Agencies: How to Create Dazzling Social Media Reports for Clients
We know how essential reporting is for the agency-client relationship, so we have optimized our monitoring tool, Digimind Social, to make it easy to create visually appealing reports with relevant data in little time. With all of the analysis potential in the tool, analysts are sometimes don't know where to begin when creating a dashboard with metrics for a report. Here are 5 tips to get your gears turning and start preparing a fantastic customized dashboard that you can easily share with your clients in a few clicks.
1. Analyze Current Campaigns
The bottom line is that Social Media ROI is what companies are always after. When a campaign is on social media, make sure the company knows how it performs. Include highlights about the company's content that has been shared, buzz that your campaigns have generated, and whether key influencers are talking about it (either positively or negatively).
2. Include a Competitor Benchmark
Your clients will want to know whether they are keeping up with the Joneses. Let them know how they measure up to the competition, both quantitatively and qualitatively. How do the numbers of mentions of each brand compare, and who is performing best on Facebook, Twitter, YouTube and other key channels? Measure the sentiment to see which brand is being praised or hated on the most, and use your tag cloud to see which key features are being spoken about in relation to each brand. We'd recommend going a step further and entering your own tags (aspects of a product, service, or key person), to break down the data into the categories that are most interesting.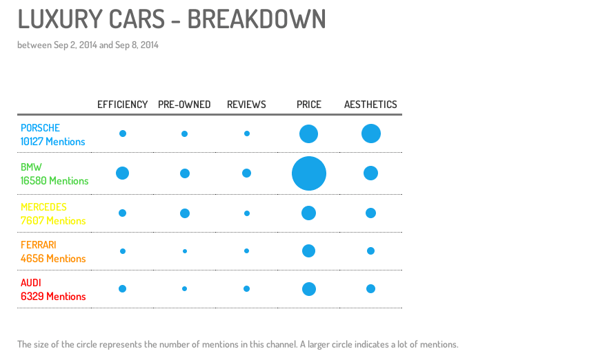 In the case of luxury cars, we can drill down into the data to see that price and aesthetics are the most talked-about categories, and that BMW's price is driving a lot of buzz compared to the competition. This is the kind of data that can help your clients make important business decisions on things like product design or pricing (you can click on the graph in Digimind Social to drill down further and see the actual mentions and further analysis about whether the aesthetics are positively or negatively viewed).
3. Highlight Strengths and Weaknesses
Naturally your clients will want to know which social media strategies are working well and contributing to follower growth and positive online PR. This is your chance to highlight your work as an agency and the value you are bringing to the client!
Everyone loves to hear what they are doing well, but make sure you give the client insights on what aspects of their business or products could use improvement. Perhaps a technical issue with a product is causing a stir, or their CEO's language is less than PC; use the data from your monitoring tool to illustrate how these things are impacting their brand reputation.
4. Draw Conclusions
If you are a social media manager or digital analyst who lives and breathes social media, it's easy to forget that your graphs may not be entirely easy for every reader to interpret. Once you've set KPIs and objectives with your client, use your reports to tell them what the raw data means in terms of their goals and make recommendations that will help with their business decisions. Add Individual Mentions as illustrations, and connect the dots for them about what can be learned from the conversations on social media.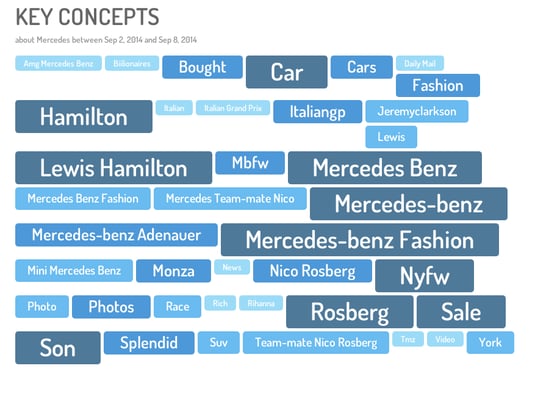 For example, someone might look this tag cloud and just see a bunch of words, but as an analyst, you can easily determine that Mercedes Benz Fashion Week in New York is dominating the mentions for this week on social media. Drilling down into the data shows that the mentions about #nyfw are overwhelmingly positive, so we can conclude that the event this year is contributing to a great brand image for Mercedes.
5. Change it up
Don't send the same report every period. Who would read the newspaper if they reported on the exact same things every day? Keep consistency in your reporting style, but vary the content and add your own personalized comments and interpretations. Just like the newspaper has various sections like Sports, Business, Weather, Travel, etc., your reports should be structured but include relevant new articles. One week's report may include a viral YouTube video from a competitor in your Benchmark section, while the big news the following week could be a product review on a blog where you outperformed the competition. There are some statistics and graphs your clients will always be interested in, but make sure to intersperse new highlights to keep things interesting.
Conclusion
Begin each report with "front page news" rather than a generic slide, so that your client knows right off the bat that your presentation contains current, interesting information. Make sure to report on the data that corresponds to their business needs. Reporting is a snap when you use Digimind Social's dashboard report export feature - just pick and choose the graphics you want from within the tool, then add your own personalized comments, and Digimind does the work of creating the PPT or PDF report for you. If you'd like to learn more about how to use Digimind Social can help you to create fantastic reports while saving time, contact us for a live demo.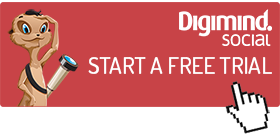 Marketing Manager @digimindci. Passionate about big data & social marketing. Photography, music and hiking lover